CH Cristabo Starlite Express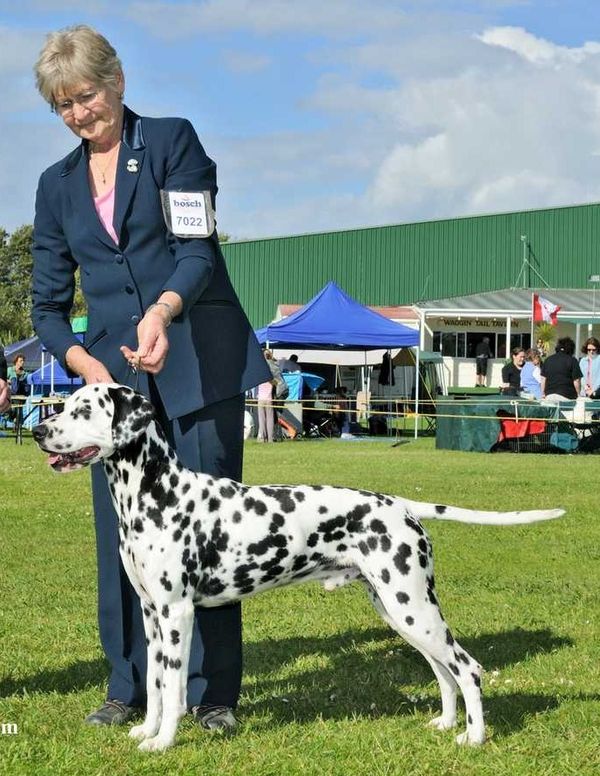 Sire: Gr CH Kavaletto of Kahryzma
Dam: CH Cristabo Star Attraxion
West was owned and loved by Val Beggs of "Kalesha Dalmatians". When Val tragically past away, West came home to Cristabo and became my mother's much loved companion.
He was a multi Best of Group and Age class in Group winner along with a Puppy In Show, and winner of Puppy Sweepstakes.  West gained his Champ title at just over 12mths of age and matured into a very elegant style of dog.
Sadly we lost West in 2013 after a tragic accident - he is missed.
His siblings are
Oakley
and
Medo.
Click on West's photo's for a larger view.
CH Cristabo Starlite Express
Gr CH Kavaletto of Kahryzma

CH Kornwalharry of Kalesha

NZ CH Olbero Organdie Bonnet (UK)

NZ CH Olbero Organdie Bonnet (UK)

CH Kornwalharry of Kalesha

NZ CH Olbero Organdie Bonnet (UK)

NZ CH Clydevale Highlander (UK)

NZ CH Olbero Organdie Bonnet (UK)

CH Cristabo Star Attraxion

CH Kornwalharry of Kalesha

NZ CH Olbero Organdie Bonnet (UK)

Stalybridge Ltd Edition CDX