BIS/RBIS CH Kissd Zedevil of Kalesha
Sire: CH Toots Zee Devil at Cristabo (imp Nwy)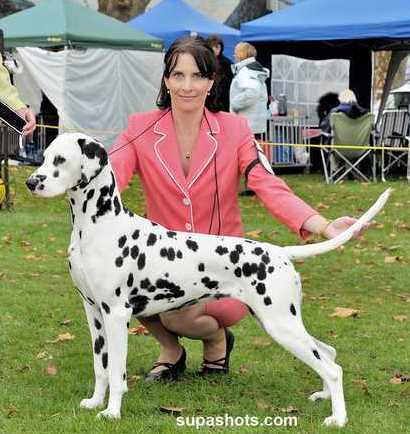 Dam CH Karelysimon of Kalesha
Whelped: 26th May 2010

Cyd is a very precious edition to Cristabo, she was  bred by my very dear friend and mentor, the late Val Beggs of "kalesha" Dalmatians.  Cyd is a bitch of excellent type and temperament and will be a valuable asset to the Cristabo breeding programme.  A Group one winner (Best of Group) and Best In Show winner she is a consistent Best of Breed winner and we think the best is yet to come from her. 

Co-owned and beautifully presented by Suzanne McKandry, she currently resides with Suz in Auckland where she gets to sit in front of the fire and sleep on the bed.  We miss our Cyd but it sounds like she doesn't much miss us LOL. 

Click on her pictures below for a larger view.
CH Kissd Zedevil of Kalesha
NZ CH Toots Zee Devil at Cristabo (imp Nwy)

Int Nord UCH NV-05 SV-05 CH Toots Working Class Hero (Nwy)

Nord UCH Spotniks Unbuttoned Uniform

Int Nord DK UCH Fin V-99 WW20 Jillocs Man In the Mirror

Nordic UCH Spotnik's Queen of Spades

N S UCH Perdita's Keep an Eye on Me

Int N S UCH Dalmo's Educated Edgar

N UCH Perdita's Long Live Love

N UCH CH Toots Suspicious Minds

N S UCH Toots Quartermaster

N S UCH Toots No Milk Today

Toots Please Don't Tease Me

N UCH Toot's Let the Good Times Roll

Gr CH Kavaletto of Kahryzma

CH Kornwalharry of Kalesha

CH Kornwalharry of Kalesha