NZ CH Toots Zee Devil at Cristabo (imp Norway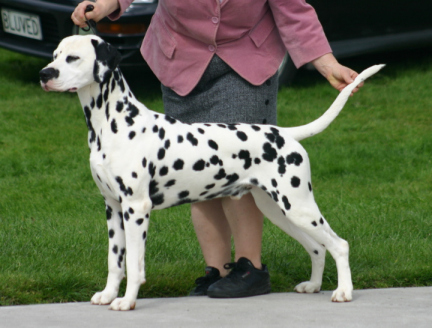 Sire: Nwy CH Toots Working Class Hero (Norway)
Dam: Nwy CH Toots Suspicious Minds (Norway)
whelped: 26th April 2004
Odin, imported from Norway, he displays wonderful breed type, substance, bone and spotting and has a bomb-proof temperament.
Containing some of the best European bloodlines in his pedigree, he is proving himself to be a valuable asset to the gene pool in NZ. Odin currently has numerous champion offspring. Progeny from every litter sired by Odin is in the show ring and have taken age group awards.  
Sadly we lost Odin in late 2014 but his legacy lives on in his wonderful progeny.
NZ CH Toots Zee Devil at Cristabo (imp Nwy)
Int Nord UCH NV-05 SV-05 CH Toots Working Class Hero (Nwy)

Nord UCH Spotniks Unbuttoned Uniform

Int Nord DK UCH Fin V-99 WW20 Jillocs Man In the Mirror

CH Rocca Al Mare Allegro Ad Jillocs

Int Nord SF CH NV-99 Ridotto Zoe

Nordic UCH Spotnik's Queen of Spades

N D PL UCH Perdita's Inside Information

N S UCH Perdita's Keep an Eye on Me

Int N S UCH Dalmo's Educated Edgar

Int NORD DK L UCH S NV-91 Knight of Gold at Theakston

Int NORD UCH Spotniks British Breeze

N UCH Perdita's Long Live Love

N S UCH TimankasTalented Clown

N UCH CH Toots Suspicious Minds

N S UCH Toots Quartermaster

N UCH Perdita's Long Live Love

N S UCH Toots No Milk Today

Løjtnantshjartats Bogholder Gråberg

N UCH Toots Keep on Running

Toots Please Don't Tease Me

N UCH Perdita's Long Live Love

N UCH Toot's Let the Good Times Roll