1990 -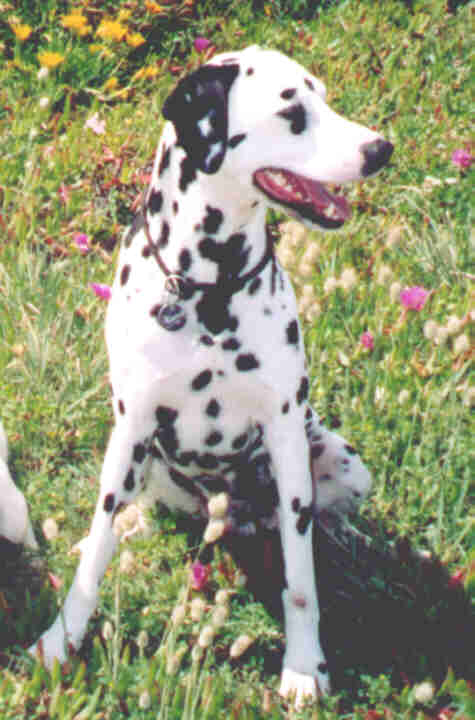 2000

 I got involved with
Dalmatians in the early 90's with the acquisition of 'Maverick' (CH Maverick of Jantas),. He was four    months old and quickly dominated my everyday life. Although I never intended to show Maverick, I made the mistake of going to a Ribbon Parade where we won a ribbon. From there on I was hooked and started showing him at All Breeds Champ shows. I had a lot of fun along the way and managed to make him up to his NZ Champion title.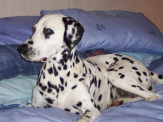 (Maverick pictured at left)
 
It wasn't long before one Dalmatian became two and Purdie or 'CH Designer Spotlight' joined the family. Purdie's mum CH Romany Sandalwood ('Taylor') won consecutive bitch challenges at Dalmatian Club shows and was also RBIS at the Dalmatian Club show held in 1995.  Purdie's first litter by CH Kristofer of Kalesha (also a BIS and challenge winner at Dalmatian Club shows) produced
CH Cristabo Star D'Zine (Shilo).
          (Purdie pictured at right)

)


Shilo has exceeded all my expectations in the show ring having had multi RBIS's at All Breeds and Non Sporting/Utility Championship shows and multi Best in Group wins. Shilo consistently wins age in Group awards and has also done well in our Dalmatian Club Point score competition. Shilo has won top Dalmatian bitch in NZ at least 3 times (Dalmatian Club point score competition) and won Puppy of the Year (1999) and Junior of the Year (2000). Shilo's wins include "best bitch" and Reserve Best in Show" under breed specialist "P Pedercini"at the Dalmatian Club Champ Show, Best of Breed under Kenneth Berg (Proctor's Dalmatians, USA) and Reserve Best In Show (All Breeds) under Jean McErlane. She has been a dream start from the first "Cristabo" litter.


2000 onwards
Some major developments for Cristabo Kennels. New bloodlines from Australia, England, America, Canada, and Europe have been utilised in my breeding programme. 

2000 
In conjunction with Val Beggs (Kalesha Dalmatians, NZ) and Leigh Sturgiss, I imported Blade ("NZ CH Wonowon Blade Runner") from Australia. Blade's pedigree reflects some of the top winning Dalmatians in Australia. 



2001
Max arrived (NZ CH Dalmeadow MacAllister) from Australia. He is closely linebred to some of the crème of UK bloodlines. His paternal grandfather, Eng & US CH Washakie Dancing Brave JW is litter brother to the famous top winning English bitch "Eng CH Washakie Indian Summer" His maternal grandfather, Aust CH Washakie Northern Dancer (imp UK) is by Eng CH Tommy Brock, in his day he was the the top winning Dalmatian of all time in the UK and producer of many top winning offspring. Max easily gained his NZ title taking out many age "In Group" and "In Show" awards along the way and has several champion offspring to his credit.            (Max pictured at right)

I mated Shilo to NZ's top winning Dalmatian "Simon" Gr CH Kavaletto of Kahryzma owned by Val Beggs. I hoped for a bitch from this litter but unfortunately this was not to be. The pick dog "Bullet" CH Bullet Proof went to live with Debra Corin and performed credibly in the show ring for her gaining his NZ champion title and several age group awards.

2002
2002 saw several new acquisitions to the pack at Cristabo. Starting in January with Dillon and Raven ("CH Cristabo Ruff Dimond" and CH Cristabo Dimond Daze by Gr CH Kavaletto of Kahryzma). Dillon went to live with my parents and Raven went to good friend "Jo Bolton".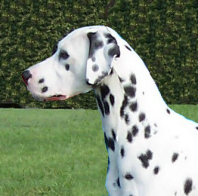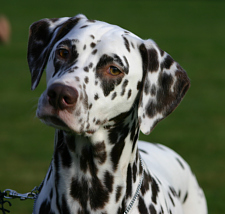 Brae and Flame ("Ch Cristabo the Jacobite and CH Cristabo Beltaine Fire") were the keepers from Purdies last litter (by Max). Both impressed immediately with their laid back temperaments and excellent breed type. Both did well in the show ring titling easily and taking group awards on the way.
Flame
went RBIS at the Dalmatian Specialty show in 2003 while still a puppy.


(Flame pictured at left)          (Brae pictured at right)

 


2003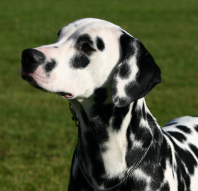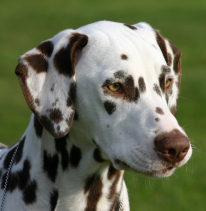 Christmas Day 2003, Shilo delivered her second litter. This was by Aust CH Starswept Canada Holiday (ai) "Haslett". Haslett incorporated some of Australias top bloodlines with those of America and Canada. He is by Can/US CH Roadpartners Billie Holliday and also includes the great Firemans Freckled Friend as a Great Grandfather on his mothers side. An interesting addition to Cristabo's gene pool. Cole and Juno

(Ch Cristabo Reach for Starz

and

CH Cristabo Star Attraxion

) have stayed at Cristabo. Juno went Reserve Best in Show at the Dalmatian Specialty Champ show (following in her mothers footsteps) under Liliane De Ridder-Onghena from Belgium and was best Junior In Show at NZKC National Dog Show 2005.
(Juno pictured above)          (Cole pictured above)

2004


Odin (NZ CH Toots Zee Devil at Cristabo)

arrived from Norway. He introduces some fabulous European Bloodlines and displays superb type, temperament and spotting and a laid back temperament making him an easy dog to have in the family.  He gained his NZ Champion title not long after turning 12mths and has had some good age group wins along the way.  He has proved an effective stud dog producing many champion offspring for myself and other breeders.

2005 - 2012
2005 saw Odin's first litter in NZ, to Shilo. From this I  kept the beautiful

Coco

(BIS/RBIS CH Cristabo Devilz Delite).   Coco has dominated in the ring being NZ's no#1 Dalmatian bitch since her debut.  She is a multiple Group and In Show winner.

The last seven years at Cristabo have seen both departures and new additions to Cristabo.  We've had to say goodbye to Maverick, Purdie, Shilo, Dillon, Flame and Juno and welcomed new Norwegian import "Blaze" Cracka, Medo, Cookie, Sin, Jett, Calypso and recently, Rave.  Oh, and of course French Bulldog "Maggie".  All can be seen on their own pages on this website.