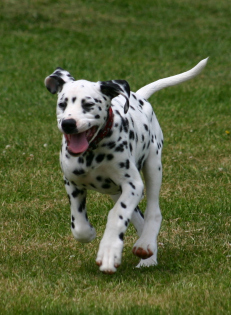 Cristabo puppies are born into a household where they are the primary focus. Mum gets fed a premium range of dog food specially formulated for puppies and bitches in whelp and is given additional supplements to ensure that the babies get the best possible start in life and a stress free whelping (fingers crossed). 

Puppies are well socialised before leaving to go to new homes and  prospective owners need to be dedicated to providing a stable, PERMANENT home.

I don't breed very often and when I do, it is generally because I am looking to keep a puppy for myself and to continue my lines. Therefore a Cristabo puppy is  only occasionally available and to avoid disappointment, orders should be placed.
A close eye is kept on mother and babies during those first critical weeks of life. They grow up with Mum and the other older dogs, and are used to being in the house at night and outside during the day.

Pups that are sold as companion dogs (or "pets") are destined to be just that - wonderful family pets. Companion dogs therefore are sold with an endorsed registration meaning that they are unable to be bred from. New owners who wish to breed from their puppy must purchase a show quality puppy and become members of the NZKC. Puppies sold as show prospects are still sold under contract to ensure that any future breeding plans are discussed and agreed to by me. This is to protect the lines on which I base my breeding plans and to ensure that no breeding is done indiscriminately with other dogs or bitches that would not be complimentary. A responsible breeder would never want to introduce known defects that could have possibly been avoided.

"Show quality" means that at point of sale, I believe that the pup displays the potential to be competitive in the show ring. Of course, no guarantees can be made of this. Pups can change quite dramatically as they grow, environment and feeding can most definitely influence the way a dog develops, and one can never be absolutely certain of how a pup will turn out. Breeders use their knowledge of the dog's lineage; the Dalmatian standard and their experience in watching pups grow to determine which are 'show quality' pups in the litter. However no breeder can honestly guarantee a Best in Group or Best in Show winner. If you are looking for a guaranteed winner then it would be best to search for an adult dog that has already been proven in the ring.  

Cristabo puppies leave here happy and healthy: fully vaccinated for their age, fully and regularly wormed and on flea protection. They have been BAER hearing tested and subjected to other basic health checks. Each new owner receives a puppy pack with a pedigree, baby photo's, feeding chart, general care guide and helpful hints. In addition, you will receive a bag of food to start you off to ensure that the pup can continue on the food that it has been fed while being reared (a premium brand of growth formula).

I expect that because I love and respect my dogs that all my new puppy owners will do the same. My basic expectations of new owners are:
• That you will provide a permanent, stable, loving home
• that you will seek quality veterinary care when necessary, including regular vaccinations, worming and flea treatment
• that you have a fully fenced, safe yard
• that you will spay/neuter your companion pet bitch/dog
• if the dog is to be an outside dog that appropriate shelter and warm winter bedding is provided
• that you allow your dog inside your home at least some of the time
• that you never hesitate to ask for my opinion, advice or knowledge with anything regarding your Cristabo Dalmatian.

And lastly, if for any reason you find that you cannot keep your Cristabo Dalmatian, I expect that you will contact me in the first instance for assistance and advice in re-homing.

Thankyou.